Children's hospital Moscow
Weiter
Children's hospital Moscow, Russia
High acoustic performance. Achieved.
Russia's most modern paediatric clinic in Moscow was planned to open on the International Children's Day. This project deadline required absolute time efficiency in design and installation.
The complete substructure was first erected on site, with the Knauf Design panels installed in an "acoustic sail" formation during the fit-out phase of the scheme.
Result: Schedule fully met.
Description of the project
The auditoriums in Moscow's state-of-the-art paediatric clinic needed to be completed within four months so that they could be inaugurated by President Vladimir Putin on International Children's Day. With no room for deviation, this demanded strict efficiency and exact timing at all the project stages.
The logistics of the project was also a real challenge due to the lack of storage capacity at the clinic.
While the project partner on site erected the entire substructure for the walls and ceiling sails, production of the required acoustic elements was in full swing at Knauf Design.
In order to achieve pure acoustics the walls had to absorb sound through specially calculated perforations on their surfaces. Air-conditioning elements were integrated in the interpreting booths and at other points recesses were cut for loudspeakers. The ceiling sail reflected sound to ensure balanced acoustics all areas of the auditorium. A large number of other recesses were built in for illumination and ventilation.
Of course, design also played an important role. The walls and the ceiling sail were enhanced with a wood-effect HPL (high-pressure laminate) coating and the wall design further enhanced using different colour tones.
Storage was an issue but Knauf Design only delivered the boards exactly when they were required for mounting, in close co-operation with the architect.
Construction information board
Product: acoustic wall panels for all auditoriums, HPL coated, acoustic ceiling for sound reflection
Architect: Bettina Könen
Projecting planning: Hospital Technology Berlin
Execution: Transumed Koblenz
Year of manufacture: 2011
Country: Russia
Photographer: unknown
Our case studies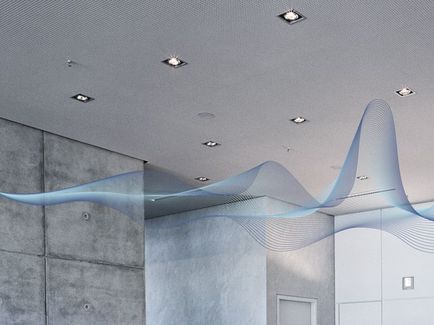 Sound in harmony
Rooms should be functional, aesthetic, well-organised and also sound good. Whether it's a church, sports hall, auditorium or classroom, – every room is different and needs its own sound concept. Knauf Design interior building materials not only let you design appealing ceilings and walls, but also realise specific acoustic-ideas.